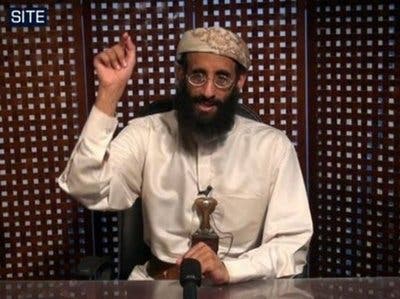 Al-Qaeda hails "Tsunami of change" in Middle East
Awlaki says revolutions are good as they break fear
Al-Qaeda's most influential English-language preacher said revolts sweeping the Arab world would help rather than harm its cause by giving Islamists freed from tyranny greater scope to speak out.

Western and Arab officials say the example set by young Arabs seeking peaceful political change is a counterweight to al-Qaeda's push for violent militancy and weakens its argument that democracy and Islam are incompatible.
But Yemeni-U.S. cleric Anwar al-Awlaki argues , in an article published online on Tuesday entitled The "Tsunami of Change", that the revolutions are good news for Islamic extremists and said the removal of anti-Islamist autocrats meant Islamic fighters and scholars were now freer to discuss and organize.

"Our mujahideen brothers in Tunisia, Egypt, Libya and the rest of the Muslim world will get a chance to breathe again after three decades of suffocation," he wrote, using a term that refers generally to Islamic guerrilla groups or holy warriors.

"For the scholars and activists of Egypt to be able to speak again freely, it would represent a great leap forward for the mujahideen", wrote al-Awlaki. He said the revolts had broken "the barriers of fear" among Muslims whose "defeatism" under tyranny had deepened after Algeria's crushing of an Islamist uprising in the 1990s.

The cleric said it did not matter what sort of government succeeded Arab autocracts, as these were unlikely to be as repressive. Imagining that only a Taliban-style regime would benefit al-Qaeda was "a too short term way" of looking at events.

Another writer, called Yahya Ibrahim, said al-Qaeda was not against regime changes through protests but was against the idea that the change should be only through peaceful means to the exclusion of the use of force.

"We do not know yet what the outcome would be (in any given country), and we do not have to. The outcome doesn't have to be an Islamic government for us to consider what is occurring to be a step in the right direction," he said.

Other articles include a piece urging Egyptians to demand a government based on Islamic Sharia law, translations of speeches by al-Qaeda leaders, and a manual for a Kalashnikov rifle.

Several articles in the latest issue of the group's English-language e-magazine "Inspire" reflect on the recent upheavals -- which have been driven by popular discontent with poor governance, rather than Islamist militancy.

The publication, aimed at Muslims in the West, is produced by al-Qaeda in the Arabian Peninsula (AQAP), an arm of al-Qaeda responsible for the group's most spectacular attempted attacks in recent years.