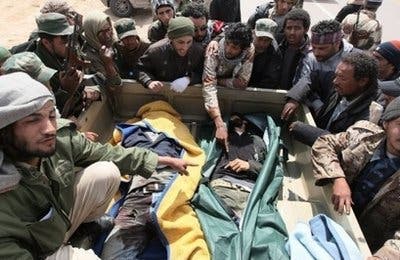 NATO probes Libya civilian deaths in coalition strike
Scots set for Lockerbie talks over Mussa Kussa
NATO is looking into reports of civilian deaths in a coalition air strike near Brega after rebels claimed victory in the battle for the key Libyan oil town.

A rebel spokesman in the town of Misrata, 214 kilometers (132 miles) east of Tripoli, also reported fierce fighting there on Saturday.

Meanwhile, Scottish detectives and prosecutors plan to meet with Foreign Office officials Monday to discuss Libyan foreign minister Mussa Kussa, who defected to Britain, as part of the Lockerbie bombing probe.

In Libya, the chief spokesman of the opposition fighters told reporters that coalition warplanes had killed 13 people, four of them civilians, in an air raid some 15 kilometers (9 miles) east of Brega on Friday.

"Thirteen dead, seven injured by friendly fire. It was a regrettable occurrence," Abdulhafiz Ghoga said, calling them "unintentional deaths."

Another rebel spokesman, Mustafa Gheriani, told Reuters the leadership still wanted and needed allied air strikes. "You have to look at the big picture. Mistakes will happen. We are trying to get rid of Gaddafi and there will be casualties, although of course it does not make us happy."

A spokeswoman for NATO, which leads the international coalition enforcing the no-fly zone over Libya and protecting civilians from attack, said the alliance was looking into the reports.

"We are always concerned by reports of civilian casualties. NATO's mission is to protect civilians and civilian areas from the threat of attack," said Oana Lungescu. But she noted that no formal investigation had been launched.

Friday's air strike came as rebels shot tracer fire into the air to celebrate the entry of an advance column into Brega.

"It was a mistake" by the rebels, Khamis said. "The aircraft thought they were coming under attack and fired on the convoy."

NATO has conducted 363 sorties since taking over command of the Libya operations on March 31, and about 150 were intended as strike missions, but NATO has not confirmed hitting any targets.

Thirteen dead, seven injured by friendly fire. It was a regrettable occurrence

Spokesman Abdulhafiz Ghoga
Brega has fallen
Ghoga also said Brega had now fallen.

"Brega is fully under the control of the rebels," he told the news conference.

Fighting was still ongoing earlier Saturday both inside and outside Brega.

Brega has been the scene of intense exchanges over the past few days when pro- Gaddafi forces returned after being driven out by the insurgents.

But it has been unclear since Thursday who actually held the town.

In the rebel-held town of Misrata, a rebel spokesman reported both close-quarters clashes and tank and artillery fire.

He said Gaddafi's forces tried to enter Misrata from three fronts, but were pushed back. Two rebels were killed, he reported.

Misrata, Libya's third-biggest city, is the last big rebel stronghold left in the west of the country. It has been encircled and under attack for weeks.

In Benghazi, the anti-Gaddafi Transitional National Council have named a "crisis team", including the former Libyan interior minister as the armed forces chief of staff, to try to run parts of the country it holds.

Omar Hariri is in charge of the military department, with General Abdel Fattah Younes al Abidi, a long serving officer in Gaddafi's armed forces, as his chief of staff.

Younes, a former Libyan interior minister, changed sides at the start of the uprising in mid-February but is distrusted by many in the rebel camp because of his past ties to Gaddafi.
We are always concerned by reports of civilian casualties. NATO's mission is to protect civilians and civilian areas from the threat of attack

Spokeswoman Oana Lungescu
Mussa Kussa's fate unclear
Meanwhile the fate of Libyan foreign minister Mussa Kussa remained unclear.

Kussa, a former head of Libyan intelligence and one-time member of Gaddafi's inner circle, flew to Britain from Tunisia on Wednesday and said he was resigning as foreign minister.

But Kussa was not offered immunity Prime Minister David Cameron has urged police to follow the trail of evidence over the 1988 jumbo jet bombing wherever it leads.

As one of Gaddafi's henchmen, Kussa is suspected of involvement in the bombing, while former Libyan justice minister Mustapha Abdel Jalil told a Swedish newspaper in February that the Libyan leader himself ordered it.

A senior government source told The Sunday Telegraph newspaper it was wrong to consider Kussa as a defector.

"He has not joined the (Libyan) opposition and he has not joined us," the source was quoted as saying.

"He is somebody who has left Colonel Gaddafi's government after a lifetime working for him. It was an enormously life-changing decision for him.

Libyan agent Abdelbaset Ali Mohmet al-Megrahi is the only man convicted over the bombing of Pan Am flight 103 over Lockerbie in December 1988, which killed 270 people.

Megrahi, who has terminal cancer, was released from a Scottish jail on compassionate grounds in August 2009, and received a hero's welcome in Libya.