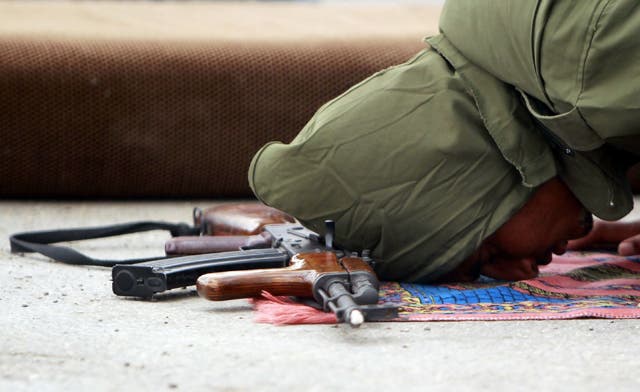 Qaddafi forces shell Tunisia town, US says Libyan troops get Viagra for new assaults
Forces loyal to Libyan leader Muammar Qaddafi shelled the Tunisian border town of Dehiba on Friday, battling anti-regime protesters. Meanwhile, the United States accused Colonel Qaddafi's troops of increasingly engaging in sexual violence.

The fighting took place near an area where a regime offensive against the Berber minority has gone on with little foreign attention.
Competing claims of success at the Wazin border crossing highlighted the fighting on Thursday in Libya's western mountains and nearby areas, where US officials say government forces have been attacking Berbers, also called Amazigh, an indigenous ethnic group that joined the rebellion after long suffering discrimination under Colonel Qaddafi's rule.

Wazin, across the border from the Tunisian town of Dehiba, is on the rebel supply route for the rebellious mountain towns of Nalut and Zintan, southwest of Tripoli. Colonel Qaddafi's forces took control of the border crossing after hours of fighting that involved artillery and GRAD rockets, according to TAP, the Tunisian news agency, while later reports said rebels had pushed them back.

"Our armed forces have purified the Wazin area from armed gangs, some were attacked and others were captured," Libyan state-run al-Jamahiriya TV claimed, citing a military source. The Wazin border crossing was also brought under control.

NATO is stepping up a six-week-old air campaign over Libya, selecting targets closer to Mr. Qaddafi in a bid to break a military stalemate between the opposition and loyalist forces.

The military alliance has boosted its firepower in the last week with addition of Italian ground-attack warplanes and armed US Predator drones.

The US envoy to the United Nations, meanwhile, told the Security Council that troops loyal to Mr. Qaddafi were increasingly engaging in sexual violence and some had been issued the performance-enhancing drug Viagra, diplomats said.

Several UN diplomats who attended a closed-door Security Council meeting on Libya told Reuters that US Ambassador Susan Rice raised the Viagra issue in the context of increasing reports of sexual violence by Colonel Qaddafi's troops.

"Rice raised that in the meeting but no one responded," a diplomat said on condition of anonymity. A British newspaper first reported the allegation.

Pfizer Inc's drug Viagra is used to treat erectile dysfunction.

Diplomats said if it were true that Colonel Qaddafi's troops were being issued Viagra, it could indicate they were being encouraged by their commanders to engage in rape to terrorize the population in areas that have supported the protesters. That would constitute a war crime.

Several diplomats said Ambassador Rice provided no evidence for the Viagra allegation, which they said was made in an attempt to persuade doubters the conflict in Libya was not just a standard civil war but a much nastier fight in which Colonel Qaddafi is not afraid to order his troops to commit heinous acts.

"She spoke of reports of soldiers getting Viagra and raping," a diplomat said, according to Reuters. "She spoke of Mr. Qaddafi's soldiers targeting children, and other atrocities."

Ambassador Rice's statement, diplomats said, was aimed principally at countries like India, Russia and China, which have grown increasingly skeptical of the effectiveness of the NATO-led air strikes, which they fear have turned the conflict into a protracted civil war that will cause many civilian deaths.

Most council members, diplomats said, had expected Colonel Qaddafi's government to collapse quickly. They said the frustration felt by India, Russia and China would likely grow if the war dragged on.

The use of rape as a weapon during wartime has received increasing attention at the United Nations. Last year, Secretary General Ban Ki-moon appointed a special envoy on sexual violence during armed conflict, Margot Wallstrom.

Earlier this month, Ms. Wallstrom chided the Security Council for failing to mention sexual violence in two recent resolutions on Libya, despite having made the subject a priority.

Ms. Wallstrom said at the time that reports of rape in Libya remained unconfirmed, but she cited the highly publicized case of Eman al-Obaidi, the woman who burst into a journalists' hotel in Tripoli last month saying pro-government militiamen had raped her.

The International Criminal Court is already investigating whether Mr. Qaddafi's government committed war crimes in its violent crackdown against demonstrators who demanded greater freedoms. The crackdown sparked a revolt that has turned into a civil war.

(Mustapha Ajbaili of Al Arabiya can be reached at: Mustapha.ajbaili@mbc.net. Abeer Tayel, also of Al Arabiya, can be reached at: abeer.tayel@mbc.net)