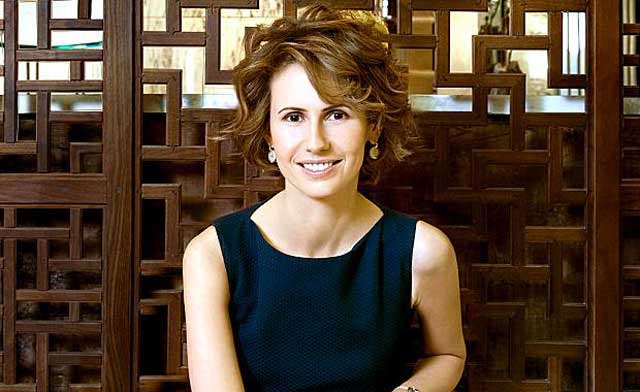 President Assad's wife, Asma, could be in London: report
The wife of Syrian President Bashar al-Assad may have fled to United Kingdom with the couple's three young children, the Telegraph reported on Tuesday.

The British-born Asma al-Assad, 35, might be living in a safe house in or near London, as she has not been seen in public since the beginning of the Spring Season, the newspaper said.

Ms. Assad was told to "get out as soon as she can. Her first reaction was clearly to get to London because of her family there," the newspaper quoted an Arab diplomat as saying.

"Her evacuation was carried out under conditions of immense secrecy but she is now safely there with her three young children and surrounded by security guards" the diplomat said.

He said that her presence could cause huge embarrassment to the British authorities, that's why her presence in London was surrounded by secrecy.
A spokesman for the UK Foreign Office declined to comment on the report, saying it doesn't release information on travel by British individuals. A Home Office spokesman said it doesn't comment on individual cases, according to Agence-Prense Presse.

Ms. Assad's father, consultant cardiologist Fawaz Akhras, and her mother Sahar Otri, a retired diplomat, live in a large terraced house in North Acton, west London.

However, the newspaper said that there was no sign of the family at the address on Monday, with three day-old post stacked against the front door. Neighbors said they had not seen Dr. or Ms. Akhras for several days, nor had they seen their daughter.

Ms. Assad, who is regarded as one of the most glamorous first ladies in the world, was brought up in London and had hoped to help stave off the type of revolution that has erupted in Egypt, Tunisia and Libya.

Recently described by Vogue magazine of the United States as "a rose in the desert," she holds dual British and Syrian citizenship.

She has set up several London-based charities including the Syria Heritage Foundation.

In Damascus she lived under the tightest security with her husband, who has become a hate figure because of using his army to kill protestors.

The Syrian uprising drew initial pledges of reform from Mr. Assad. He hasn't repeated the assurances in recent weeks as the security forces have stepped up their attacks, sending tanks into several Syrian cities.

Street demonstrations are persistently dispersed with violence by the security forces, who also make mass arrests, according to rights activists, who say hundreds of people have been killed and 8,000 jailed or gone missing in the eight-week crackdown.

According to Human Rights International, there have so far been up to 800 civilians, including women and children, murdered since the start of the Arab Spring.

(Abeer Tayel of Al Arabiya can be reached at: abeer.tayel@mbc.net)