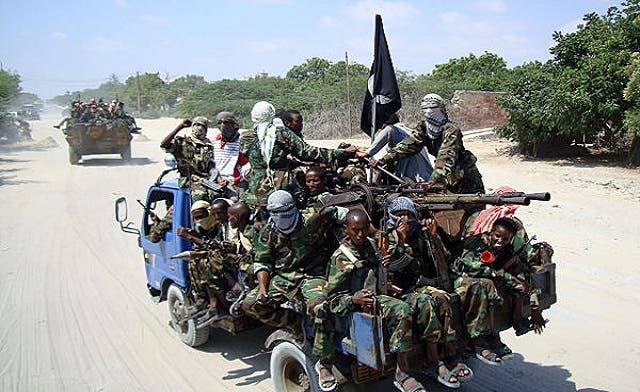 Somali militants with ties to Al Qaeda have recruited 40 American Muslims, says controversial US Congressman
A Somali group with ties to Al Qaeda has recruited and radicalized more than 40 American Muslims to join their cause in war-ravaged Somalia, according to a report by a US Congressional committee.

During his third controversial hearing on Muslim radicalization in the US on Wednesday, chairman of the House Committee on Homeland Security Peter King said the investigation shows that links between Al Shabab and Al Qaeda are closer and more dangerous than officials previously acknowledged.

"Not Al Qaeda, nor any of its other affiliates, has come close to drawing so many American Muslims and Westerners to jihad," said Mr. King during opening remarks.
The report alleges that operatives from Al Qaeda in the Arabian Peninsula, which US security officials consider one of the most dangerous offshoots, trained American Muslims who went to Somalia to fight with Shabab. Of the 40 who left, 21 are believed to have traveled from Minnesota, and at least 15 have been killed.

The top Democrat on the committee, however, said the threat was being overstated.

"Al Shabab has fewer than 3,000 members, and has never attacked the US or our interest abroad. Somalia is in the grips of a humanitarian crisis. There is no threat to the US from Al Shabab," said Congressman Bennie Thompson.

But some of the experts testifying during Wednesday's hearings reiterated the need to look into Al Shabab's reach into the US. Once an individual leaves the US and enters Somalia, security officials have almost no way of keeping track of their activities before they re-enter the US.

"The reality is that even in the best-case scenario, even when a family member reports them as a potential threat to the US, we sometimes miss them. It's incredibly scary in that regard," said W. Anders Folk, a former government prosecutor in Minnesota.

Minnesota, home to a large Somali-American community, has been the focus of federal investigations into radicalization for years. Just last week, a Minneapolis man pled guilty to recruiting members of the community to join Al Shabab and helping them travel to Somalia. He faces up to 15 years in prison.

Wednesday's hearing comes only days after a right-wing extremist carried out the deadliest attacks since World War II in Norway. Critics have long said Mr. King's inquisitions into Islamic radicalization could not only inflame anti-Muslim sentiment in the US, but also divert attention from other serious threats like those posed from violent right-wing extreme ideologies. Some want the committee to expand their scope.

"I'd like to have a hearing on right-wing groups… I have a 39-page list of active groups in the US right here," said Congresswoman Sheila Jackson Lee, known for her spirited opposition to the premise of the hearings on Muslims.

Despite the national ongoing criticisms, Mr. King defended himself and his purpose, slamming the "political correct media" and "vacuous ideologues" at the New York Times for suggesting the hearings should look into other threats.

"If they had even a semblance of intellectual honesty, the Times and others would know and admit that there is no equivalency in the threat to our homeland from a deranged gunman and the international terror community apparatus of Al Qaeda and its affiliates who are recruiting people in this country and have murdered thousands of Americans in their jihad attacks," said Mr. King.

(Angela Simaan is a producer in Al Arabiya's Washington, DC bureau. She can be reached at angela.simaan@mbc.net)