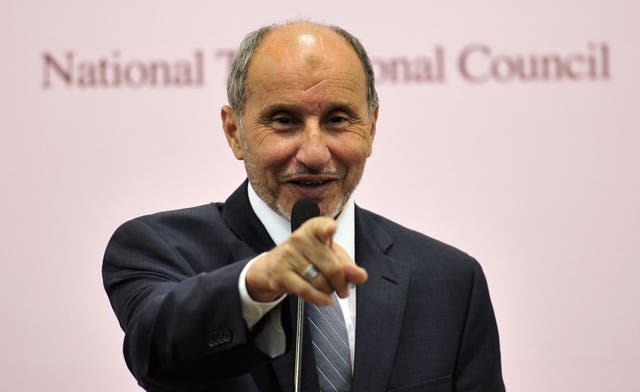 Libyan rebel leader urges fighters to respect law, promises fair trials for Qaddafi
The head of Libya's rebel national council urged his fighters on Monday to respect the law and not take violent revenge on members of Muammar Qaddafi's fallen regime, adding that indiscipline among rebels could even lead him to resign.

Mustafa Abdel Jalil, chairman of the National Transitional Council, promised fair trials for Qaddafi and members of his government and called for tolerance, forgiveness and the protection of civilians and of public and private property.

"I call upon our revolutionaries ... not to take the law into their own hands and to let justice take its course," Jalil told a news conference in the rebels' bastion of Benghazi in eastern Libya.
He said the era of Qaddafi was over although final victory would only come when the man who ruled Libya harshly for 42 years was captured.

"We are at the start of a new period in which we will seek to build a state on the same principles that we have committed to and they are freedom, democracy, equality and transparency within a moderate Islamic framework," said Jalil, once a minister of justice under Qaddafi.

He warned there would be problems ahead. "Libyans must know that the coming period will not be a bed of roses. We face many challenges and responsibilities," he said.

On the political front, Abdel Jalil told Al Arabiya that his ad hoc government was preparing to move to Tripoli but that the pockets of resistance were delaying this.

Rebel military spokesman Mohammed Zawiwa told AFP the rebels seized control Monday of the state broadcaster in Tripoli.

"All the television stations controlled by the state have stopped transmitting (in Tripoli). Our fighters have gone in and taken control of the facilities," Zawiwa said.

Elsewhere in Tripoli, rebel fighters packed in trucks, cars and pickups streamed during the day from liberated areas of western Libya towards the symbolic Green Square in the heart of the city, brandishing arms and honking horns, an AFP reporter witnessed.

Many of the rebels were waving flags of the revolution as they appeared to be heading to the square and then onwards to join rebels trying to snuff out the last pockets of resistance, especially outside Kadhafi's Bab al-Azizya compound in Tripoli.

Rebel chief Abdel Jalil said it was difficult to tell whether Qaddafi has fled the country or remained within, pointing out that he could still be at his compound.

"The area around al-Azizya is still a hot spot. There are forces that continue to fight the rebels. He (Qaddafi) could still be in al-Azizya, or in neighboring areas," he said.

Different factions and militias are loosely united in the rebel camp. In what could be an ominous sign of things to come, the rebel military chief was assassinated in July in circumstances that have yet to be explained but which raised fears of internecine violence.

Some groups within the rebel movement have refused to bow to a central military chain of command, Jalil said. "These might be the reason or the cause of my resignation," he added.

"My fear is some actions which are outside the framework of the orders that we get from the leaders, especially those concerning revenge," he said. "I object strongly to any executions outside the framework of the law."

Jalil said the whole of Tripoli was not yet under rebel control and he did not know where Qaddafi was hiding. Two of Qaddafi's sons had been captured, he said. Al Arabiya reported that a third son for Qaddafi, Saadi, was also detained on Monday.

"We hope that he's (Muammar Qaddafi) captured alive so he'll be given a fair trial," he said.

"Qaddafi will be given a fair trial but I don't know how he will defend himself against his crimes."

Jalil declined to say when he and other rebel leaders would move to Tripoli.

He also said the national council would favor foreign countries that had supported the rebellion.

"We assure the international community that we are seeking to build solid ties based on mutual respect," he said, adding that some countries would benefit from "special privileges" in relations with the oil-rich north African country.