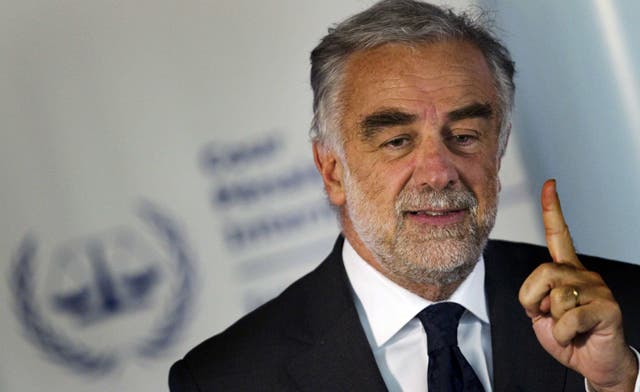 ICC seeks Interpol red notice warrant for Qaddafi, NATO to push on with Libya campaign
The International Criminal Court prosecutor said on Thursday he is asking Interpol to issue red notice arrest warrants for Libya's Muammar Qaddafi, his son Seif al-Islam, and intelligence chief Abdullah al-Senussim, as NATO said its forces will push ahead with the bombing campaign as long as there is still a threat from Qaddafi forces.

The ICC issued arrest warrants in June for all three for crimes against humanity.

ICC prosecutor Luis Moreno-Ocampo said he wants Interpol to issue a red notice to arrest Muammar Qaddafi for the alleged crimes against humanity of murder and persecution.
"Arresting Gaddafi is (a) matter of time," he said, according to Reuters.

NATO, meanwhile, will push ahead with its bombing campaign in Libya for as long as it deems there is still a threat from forces loyal to fugitive former leader Qaddafi, the alliance's chief said on Thursday, according to AFP.

Speaking after Qaddafi had vowed in his latest broadside that NATO would be defeated, the organization's secretary general Anders Fogh Rasmussen said it was time for the colonel to throw in the towel.

"NATO and our partners will continue the mission as long as the threat remains. Qaddafi and the remains of his machine must realize that there is nothing to be gained from more fighting," he said on a visit to Portugal.

"Libya is turning a new page. The future of Libya is now in the hands of the Libyan people," Rasmussen told reporters.

Rasmussen also defended the conduct of the seven-month air campaign, saying everything had been done to avoid civilian casualties.

"Our operation in Libya has been a great success," said the former Danish premier.

"We've been very cautious the way we've been conducting the operations to avoid civilian victims. We've prevented a massacre ... I don't think we could have done something different."

In his latest interview with a Syrian television station from his desert hideout, Qaddafi said NATO "will be defeated" as its "logistical capacities will not allow it" to press on with its campaign.
"Extraordinary roles"
The US ambassador to NATO said Thursday that Britain and France played "extraordinary" roles in NATO's air war in Libya but the United States provided the critical assets that ensured its success.

"We're clearly getting near to the end of the operation," said ambassador Ivo Daalder, nearly six months since NATO took over a mission to protect civilians from Qaddafi's forces.

British and French aircraft flew one-third of some 22,000 sorties while their warplanes hit 40 percent of the 5,000 military targets that NATO destroyed in Libya, Daalder said.

"France and the United Kingdom did an extraordinary job and they were equally indispensable to the success of this operation," Daalder told reporters, according to AFP.

While around half of NATO members contributed military assets to the operation, only eight conducted air strikes: the United States, France, Britain, Canada, Italy, Denmark, Norway and Belgium.

Daalder highlighted the roles played by Belgium, Denmark and Norway, saying that combined they bombed as many targets as France despite their relatively small air forces.

Britain and France spearheaded the air war against Qaddafi's forces in Libya, launching the first salvos under a coalition led by the United States on March 19.

But with the United States bogged down in Afghanistan, US President Barack Obama handed command of Libya operations to NATO on March 31.

Despite the handover, the US military provided three-quarters of the refueling planes and reconnaissance and intelligence aircraft, while US unmanned drones were deployed to provide high-precision targeting.

US warplanes and cruise missiles were also central in taking out Qaddafi's air defenses, allowing NATO warplanes to fly over safer skies in Libya.

While forces of Libya's ruling National Transitional Council hunt for Qaddafi, who aired another defiant audio tape on Thursday, Daalder said it was unclear whether his capture would necessarily prompt his followers to raise the white flag.

"It isn't clear that if he were to be taken out that the whole thing would necessarily collapse; we just don't know that. We do know that if he doesn't have the capability to pose a threat to civilians, then it doesn't really matter," Daalder said.