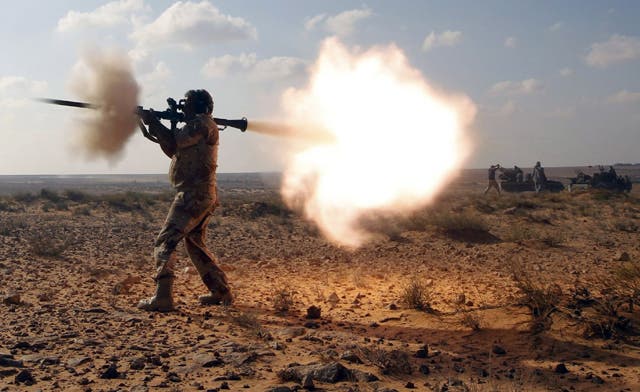 Libya's NTC fighters withdraw from Qaddafi's hometown, resume push in Bani Walid
Libya's revolutionary fighters have pulled out from Muammar Qaddafi's hometown of Sirte on Saturday for "tactical reasons," Al Arabiya correspondent said, hours after having fought street-by-street battles against loyalist forces fiercely defending the most symbolic of the shattered regime's remaining strongholds.

Reporting from the frontlines, Al Arabiya correspondent Ahmad Bagato earlier said about 6,000 fighters were slowly advancing into Sirte as they were met with strong resistance from Qaddafi loyalists. The fighters had taken control of Dyafa Palace in the city's area number 1 and forced Qaddafi's forces to pull back to the city's center.
A Sirte resident fighting along the revolutionary forces told Al Arabiya TV that only few residents were supporting Qaddafi and most of them were either "bought with money or forced to support him." He said Qaddafi's son Mutasim was suspected of leading the fight inside Sirte. "I think Mutasim is there, he is a criminal and bloodthirsty," Muhammad said.

The commander of the Saadi brigade in Sirte was reportedly captured by a group of Misrata revolutionary fighters, but the reports could not be confirmed.

At a checkpoint some 30 kilometers west of the town, Commander Salem Jeha, a member of Misrata Military Council, told AFP: "We are now concentrated in a handful of buildings in the city and on the outskirts including Wadi Abu Hadi where Qaddafi's forces are concentrated."

Sirte airport came under complete control of NTC combatants late on Friday, he said, adding that there was "no possibility for them (Qaddafi's forces) to continue their resistance."
At the Gate 30 checkpoint, truckloads of ammunition could be seen heading towards the front, along with more pick-ups bearing fighters and anti-aircraft guns.

Jeha said there were some 1,200 NTC armed vehicles plus the thousands of fighters, mostly from Misrata, in the Sirte area.

"There may be houses and pockets of resistance, but they will not be able to overcome the rebels' massive forces," he said, adding that he had received reports that half of the city's civilians had fled.

The attacking fighters were trying to prevent civilian loss of life and were not seeking revenge: "We are not using heavy weapons except to protect our rebels when they are targeted."

Jeha added: "This matter is sealed, it's over. Our focus will now shift to free the south."

Lieutenant Abdel Wahid al-Aguri, a former regular officer, said: "We are now in control of the highway and the southern part of the city."

He added that the national army would continue to back and protect volunteer fighter brigades leading the Sirte offensive, but admitted there were some coordination issues between different forces on the battlefield.

"This is a weird battle, because in the traditional army there are clear orders whereas here we cannot coordinate closely," he said.

Aguri said rebels had so far held back from firing their heaviest weapons, which include cannon and Grad rockets that are readily available, in a bid to minimize loss of life and damage to property.

A pick-up truck arrived at the Gate 30 checkpoint bearing three prisoners whom the NTC forces said were Qaddafi snipers, an AFP correspondent reported.

One prisoner, an old man showed signs of having been beaten, with blood streaming from his temple.

The youngest prisoner managed to blurt out to AFP that he was 19 as an angry crowd of fighters ringed the vehicle and tried to beat the three. Others held them back, however, shouting that there were media present.

"Sahafa, sahafa (journalists, journalists)," they yelled.

Qaddafi in Libya
Meanwhile, Qaddafi's spokesman, Mousa Ibrahim, said that the deposed strongman is in Libya, directing all aspects of fight against provisional government, Reuters reported him as saying.

Ibrahim also said that NATO air strikes on Sirte overnight had hit a residential building and a hotel, killing 354 people.

He said that more than 2,000 people were killed by NATO's airstrikes in Sirte in the last 17 days.

His claim could not immediately be verified as Sirte has been largely cut off from communication since the fall of Tripoli.

"NATO attacked the city of Sirte last night with more than 30 rockets directed at the city's main hotel and the Tamin building, which consists of more than 90 residential flats.

"The result is more than 354 dead and 89 still missing and almost 700 injured in one night," Ibrahim said.

"We are aware of these allegations," Colonel Roland Lavoie, spokesman for the Western military alliance, said in Brussels. "It is not the first time such allegations have been made. Most often, they are revealed to be unfounded or inconclusive."

According to Ibrahim, the loyalists' forces have enough arms and ready to fight for months.
Aggravated in Bani Walid
Fighting resumed in the besieged Libyan town of Bani Walid, meanwhile, after diehard loyalists of Qaddafi dug in there shelled a key checkpoint controlled by transitional government forces on its northern outskirts.

A column of National Transitional Council pickup trucks mounted with anti-aircraft machineguns and fresh ammunition was seen rushing back into the interior desert town as dusk fell.

The day before, NTC fighters seeking to capture one of the fallen, fugitive Libyan leader's last bastions had beat an embarrassing retreat from Bani Walid under withering heavy weapons fire from his loyalists.

The surly-looking NTC fighters had several theories as to why they were defeated.

"There are traitors among us," Anas Madraha told Reuters, repeating a familiar refrain that Qaddafi infiltrators were feeding information to Bani Walid's defenders.

Another NTC fighter, Abushusha Bellal, went further.

"When we entered the city, snipers shot at us from the front and traitors shot at us from the back," he said with a look of disbelief. "They always play tricks and shoot us in the back."

For others, there were other reasons. There were not enough troops. The organization was chaotic. There was no cooperation between the different brigades who took part in the attack. There was a lack of discipline, they said.

One fighter, Nuraldin Zardi, told Reuters his brigade had missed the order to retreat and had found itself trapped and isolated inside Bani Walid hours after their comrades had fled.

"God only knows why," he yelled, shaking his fist. "When the shelling started no one told us we were supposed to retreat."

Zardi said his unit had conserved its ammunition and fought its way out street by street.

NTC fighters had spent much of the day grumbling about their setback the day before as mortar rounds from Banin Walid's defenders whistled by them, only aggravating the anti-Qaddafi forces' humiliation.

Late on Saturday morning, NTC reinforcements began to arrive from around Libya and fighters said another 1,000 men from Tripoli and other parts of the country were on their way.