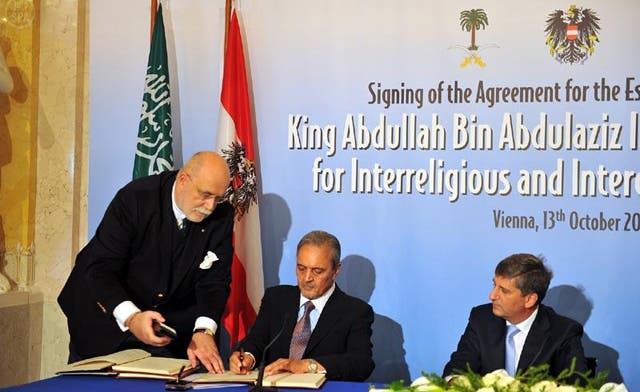 Saudi-backed religious tolerance center opens in Vienna
Saudi Arabia inaugurated an interfaith center in Vienna Thursday and its foreign minister said he hoped the spirit of tolerance embodied by the new institution will help change his conservative Muslim country, which prohibits any religion except Islam.

The statement by Foreign Minister Saud al-Faisal was an unusually clear declaration of intent by Saudi Arabia's rulers to work for religious and societal reforms from abroad in the face of domestic opposition to rapid change.

The center has ignited debate. Backers hope it will promote increased tolerance in Saudi Arabia, a kingdom that now prohibits any religion outside of Islam. Detractors, including Austria's Green party and moderate Muslim groups in Austria say the Saudis are the last people who should be hosting initiatives on religious coexistence.
Ahead of Thursday's inauguration ceremonies, the daily Der Standard cited Rabbi David Rosen of the American Jewish Committee as criticizing Saudi plans to exercise initial leadership oversight of the institution, saying it had to be "totally independent."

Strict interpretations of the faith have left Saudi women without the right to drive or to go out without permission from a male relative. They have also have tattered ties with Islam's other major branch, Shiism, that have exposed deep rivalries between Saudi Arabia and predominantly Shiite Iran.

Relations reached a new low this week after U.S. allegations that Iran was behind a plot to assassinate the Saudi ambassador to Washington.

In Vienna to launch the interfaith center, Saudi Foreign Minister Saud al-Faisal accused Tehran of "murder and mayhem" and said his country is working on a "measured response" to the purported Iranian assassination attempt.

But most of his comments focused on the "King Abdullah Bin Abdulaziz International Center for Interreligious and Intercultural Dialogue" - and he appeared keen to dispel skepticism about his country's commitment to make it a focal point of interfaith dialogue and tolerance.

In an unusually fort right statement reflecting the Saudi leadership's push for change, the minister said he hoped "the center will take the lead" in making Saudi Arabia a more tolerant society.

"Saudi Arabia is willing to financially participate in this project, and to place all its moral and political resources behind such a center, without infringing ... on its autonomy or independence from any political interference," he told officials and reporters.

And he warned against "extremist minorities within every religious and cultural community ... seeking ... to propagate notions of intolerance, exclusion, racism and hatred."

"These tiny minorities," he said, "are trying to hijack and disrupt the legitimate identities and aspirations of people of all cultures and faiths."

The founding document cites principles enshrined in the Universal Declaration of Human rights, "in particular, the right to freedom of thought, conscience and religion." It emphasizes "human rights and fundamental freedoms for all without distinction as to race, sex, language or religion."

Its board will consist of three Christians, three Muslims, a Jew, a Buddhist and a Hindu.

King Abdullah, who is regarded as a reformer by Saudi standards, is slowly moving to lift some restrictions dictated by conservative Saudi society. He recently decreed that women would be allowed for the first time to vote and run as candidates in elections for municipal councils starting in 2015. He also promised to appoint women after two years to the Shura Council, the currently all-male consultative body with no legislative powers.

At the same time, the kingdom continues to impose many religiously motivated social restrictions on women.

In Saudi Arabia, no woman can drive, travel, work, marry, get divorced, gain admittance to a public hospital or live independently without permission from a male guardian. Men can beat women who don't obey them and fathers or brothers can prevent their female relatives from getting married if they don't approve.

Any reforms at home must be cautious so as not to offend the country's senior clergy, which the Saudi royal family depends on for support, a fact that has apparently prompted the king to pave the ground for changes at home by showcasing his readiness for reform abroad.

Its direct predecessor, a Saudi-sponsored interfaith conference in Madrid three years ago, was described in a confidential U.S. Embassy cable as a "ground breaking event."

"That Saudis are bringing together Muslim, Christian and Jewish scholars, all on equal footing, for a dialogue to establish mutual understanding and religious tolerance is truly significant," said the cable, available on the Wikileaks site.

"One of the King's main purposes in leading this event may be to stimulate the Saudi people to question their own attitudes toward non-Muslims."