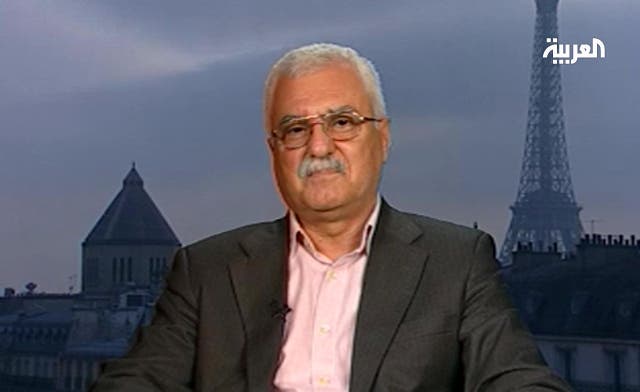 Christians participated in all revolution activities: Syrian opposition figure
There is an impression that Syrian Christians are taking the side of the ruling regime in Syria, George Sabra, member of the general secretariat and spokesman for the National Syrian Council (NSC), said during a recent appearance on "Noqtat Nizam" (Point of Order), aired by Al Arabiya on Friday.

But Sabra also clarified that the Christian elites have actively participated in all the revolution's activities in political and media fields. However, he admitted that Christians did not participate in the revolution as a mass group.

Concerning the role of the church, Sabra stated that the main reason behind the absence of Syria's Christians in the streets next to their brothers is the church, which has been hesitant to take a stand. He said that he had heard some Syrian Christian clerics expressing the fears and concerns of Christians. Thus, he told them that fear can only be dissipated by integrating the social groups, rather than hiding behind transient authorities.
Sabra also stressed that Christians should not compare their fate to that of Christians in Iraq after the fall of Saddam Hussein.

"In fact, there is not one single indicator that enforces this thinking since the history of the independent Syria has another story to tell," he said.

Sabra added that during the democratic periods, the political Christian presence highly exceeded their social presence, which was numerically low. Their importance in the political field was demonstrated by their active role in their societies, where they got involved in good and bad times.

As for the fear of the alleged predominance of the Muslim Brotherhood in the national council, Sabra said that Syrian Islamists are moderate and that the Muslim Brotherhood has conducted itself as a moderating force.

On the other hand, Sabra refuted the statements of Aleppo's Roman Catholic archbishop Jean Jean-Bert when he announced that Christians do not trust an extremist Sunni authority. Sabra said that these words are false, because when the independent Syria arose in the mid-1940s Muslims had nominated a Christian, from the protestant Christian minority, as prime minister in several situations and as a democratically elected house speaker whom they used to call: "the boss."

Moreover, Sabra criticized the national council's performance and said that the council suffers from many deficiencies, namely at the level of decision-making. He held the council's president, Burhan Ghalioun, and the decision-makers responsible for these shortcomings. He also said that the council had received what it deserved from the Syrian people who lifted it to the level of representing the Syrian revolution, but the council has not sufficiently paid the people back in light of the increasing popular needs, mainly at the level of relief, as well as moral and financial support.

It is important to note that Sabra, who left Syria at the end of 2011, had spent eight years in prison under the reign of Hafez Al Assad and had been arrested during the current revolution. He is also considered as a prominent candidate to replace Ghalioun after his national council presidency mandate ends.


(Translated from Arabic by Stanela Khalil)