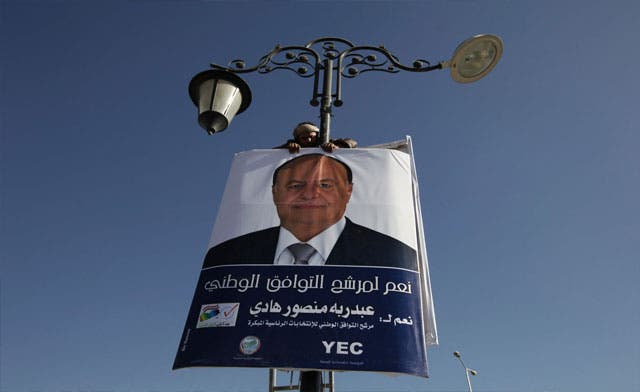 Saleh's successor: low-profile warrior of consensus in Yemen
Abdrabuh Mansur Hadi, who will become Yemen's next president after Tuesday's referendum, is a career soldier with no popular or tribal base but who has emerged as a consensus figure in the impoverished country's year-long crisis.

Hadi, a major general from the south, has been Saleh's vice president since 1994 and is also the secretary general of the ruling General People's Congress (GPC) party, but he had never played a top role in Yemen's politics.
Hadi in practice replaced Saleh last June, when the 69-year-old president was wounded in an attack on his presidential compound and then spent more than three months receiving treatment in Saudi Arabia.

During Saleh's absence, the once fiercely private vice president of few words gained the respect of Yemen's political parties, including the opposition.

Hadi also played a crucial role in convincing Saleh to sign the UN-backed power-transition plan in November last year, which marked the beginning of the end of the embattled president's 33-year-rule.

"The way he handled the negotiations for the settlement plan, and above all the way in which he convinced Saleh to go along with it, proves that he is very savvy," a western diplomat said, on condition of anonymity.

The Gulf-brokered deal gave Saleh and his closest aides immunity from prosecution and made him honorary president. It also stipulated that Hadi become the next president of Yemen for an interim two-year period after a referendum on February 21 in which he will be the sole candidate.

Unlike Saleh however, Yemen's new president-elect has "no tribal, familial, regional, or partisan base and has no real experience in power," said the diplomat.

"He stands above all these conflicts and this is what gives him his strength," he added.

Born on May 1, 1945, in the village of Dhakin in the southern Abyan province when it was a British protectorate, Hadi graduated from a military academy in formerly independent South Yemen in 1964, before receiving military training in Britain and Egypt. His hometown is now a hotbed of Al-Qaeda activity.

He was a low-profile figure in the freedom struggle of South Yemen, which won independence in November 1967.

But he rose to prominence in his military career in what was the only Marxist nation in the Arab world, a state with close ties to the former Soviet Union during the Cold War.

He remained loyal to South Yemen's president Ali Nasser Mohammed, who was forced in January 1986 to seek protection in neighboring North Yemen, a country Saleh had ruled since 1978.

A unified Yemen was proclaimed on May 22, 1990, four years after Hadi had joined the northern camp.

The southerners tried to break away in May 1994, sparking a bloody civil war during which Hadi closed ranks with the northerners to crush the revolt. During the civil war, Hadi was appointed defense minister.

With the defeat of southern forces five months after the conflict erupted, he was promoted to vice president and held on to the post despite a series of political, sectarian and tribal crises.

He has two daughters and three sons, and has authored several books, including one on the military defense of mountain areas.