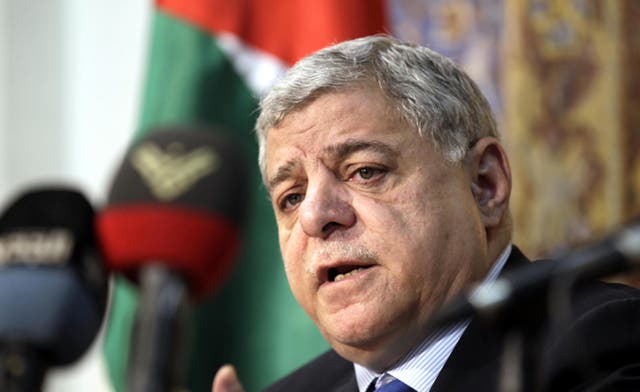 Jordan's king swears in new conservative-dominated cabinet
A Jordanian government dominated by conservatives under new Prime Minister Fayez al-Tarawneh, a pillar of the political establishment, was sworn in on Wednesday and tasked with preparing parliamentary elections expected later this year.

Jordan's King Abdullah II swore in the 30-strong cabinet which includes 20 newcomers, among them former MP Ghaleb Zubi as the new interior minister, and one woman, Nadia Hashem, as state minister for women's affairs.

In the new line-up, Foreign Minister Nasser Judeh retains his portfolio, veteran journalist Samih Maayatah becomes information minister and economist Suleiman Hafez takes up the finance post.

The king appointed Tarawneh on Thursday after accepting the resignation of Awn Khaswaneh, 62, an International Court of Justice judge who formed his cabinet last October to become the third premier of 2011.

Khasawneh's resignation was a surprise move politicians attributed to an extended power struggle with the powerful security services

The monarch instructed Tarawneh to form a government for "a limited transitional period" to implement reforms needed to hold elections before the end of 2012.

He accused Khaswaneh of being too slow, telling him in a letter on Thursday that Jordan "cannot afford any delay in achieving the needed reform."

Khasawneh won a comfortable vote of confidence for his government from parliament in December, but he came under sharp criticism for proposing an electoral law seen as a blow to pro-reform movements, including the powerful opposition Islamists.

The long-awaited draft, which was approved by his cabinet earlier this month, scrapped a contested one-person-one-vote system and increased a quota for women lawmakers.

But the proposal limited the number of seats allocated to political parties, which angered opposition groups, mainly the powerful Muslim Brotherhood.

Jordan has seen persistent Arab Spring-inspired demonstrations almost every week since January 2011, demanding sweeping reforms and a tougher fight against corruption.


Who's who in new cabinet
Following is the official list of the 30-member Jordanian government of Fayez Tarawneh, sworn in by King Abdullah II on Wednesday.

- Prime Minister and Defence: Fayez Tarawneh (new)

- Interior: Ghaleb Zubi (new)

- Foreign Affairs: Nasser Judeh (unchanged)

- Finance: Suleiman Hafez (new)

- Planning: Jaafar Hassan (unchanged)

- Trade and Industry: Shabib Ammari (new)

- Health: Abdullatif Wreikat (unchanged)

- Water and Irrigation: Mohammad Najjar (new)

- Agriculture: Ahmad Khattab (unchanged)

- Energy: Alaa Bataineh (changed portfolio)

- Justice: Khalifah Suleiman (new)

- Information: Samih Maayatah (new)

- Education: Fayez Saudi (new)

- Higher Education: Wajih Oweis (new)

- Environment: Yasin Khayyat (unchanged)

- Housing and Public Works: Yehia Kasbi (unchanged)

- Culture: Salah Jarrar (unchanged)

- Social Development: Wajih Azaizeh (new)

- Tourism and Antiquities: Nayef Fayez (unchanged)

- Labour: Ateb Odeibat (new)

- Transport: Hashem Masaid (new)

- Municipal Affairs: Maher Abu Samn (unchanged)

- Communications and Information Technology: Atef Tel (new)

- Islamic Affairs and Awqaf: Abdul Salam Abbadi (unchanged)

- Prime Ministry's Affairs: Kamel Said (new)

- Political Development: Nufan Agarmeh (new)

- Public Sector Development: Khleif Khawaldeh (unchanged)

- State Minister for Parliamentary Affairs: Sharari Shakhanbeh (new)

- State Minister for Women's Affairs: Nadia Hashem (new)

- State Minister: Yusef Jazi (new)