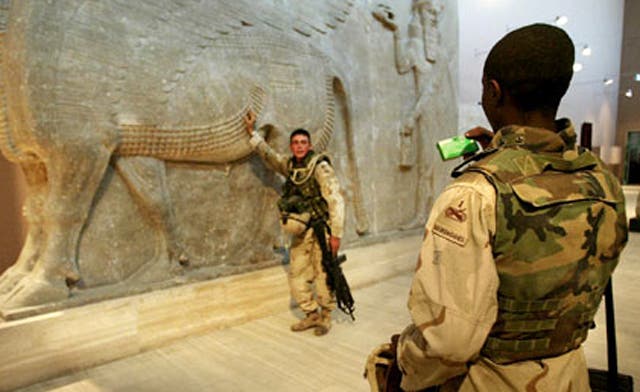 Israel suspected of seeking to 'steal' ancient Iraqi manuscripts transferred to U.S.
The Iraqi minister of culture has said that the United States is delaying the return of original copies of ancient manuscripts that were illegally smuggled out of Iraq and reportedly sold to Israel.

The manuscripts are part of the Jewish archive that was found in the basement of the Iraqi intelligence building following the 2003 American invasion.
The archive was reportedly transferred to the United States for "maintenance purposes" provided that it would be returned to the Iraqi government by mid-2006. The archive, however, has not yet been transferred back to the Iraqi Archeology and Heritage Association.

Iraqi media reports suggest that Israel was behind the stalling of the
delivery of the archives and that the Jewish state was planning to obtain the historic manuscripts from its ally the United States. Arab League Deputy Secretary General Ahmed ben Helli has confirmed attempts by Israel to steal ancient Iraqi archives.

"Iraq has been subjected to the biggest theft of its manuscripts and historic treasures," he said. "Israel is accomplice to this."

According to archeologists, the Iraqi Jewish archive contains almost 3,000 documents and 1,700 antiques that chronicle the eras in which Jews were enslaved in Iraq during the first and second eras of Babylonian captivity. The collection also comprises belongings of Jews who lived in Iraq.

Among the most important items in the collection are the oldest copies of the Talmud and the Old Testament. That is why, experts argue, the former Iraqi regime kept the collection guarded in the intelligence building.

Experts add that Israel is keen on obtaining the manuscripts in order to prove their claim that the Jews had built the Tower of Babel as part of its attempt to distort the history of the Middle East for its own interests.

According to Saad Bashir Iskander, head of the Iraqi Books and Manuscripts Authority, the United States intentionally transferred ancient manuscripts that date back to several eras from Iraq.

"The manuscripts filled 48,000 boxes and containers," he said. "The United States has 90 percent of Iraq's historic archives in its possession. American researchers and universities use it illegally."

Deputy Minister of Culture Taher al-Hamoud said that United States was delaying whenever asked by the Iraqi government to bring the collection back.

"Based on the information we have at the ministry of culture, 70 percent of the archive is in Hebrew, 25 percent in Arabic, and 5 percent in other languages," he told Al Arabiya.

Several Iraqi bodies, like the parliament's Cultural Committee, are calling upon the Ministry of Culture to exert its utmost effort to return the country's stolen heritage.


(Translated from Arabic by Sonia Farid)