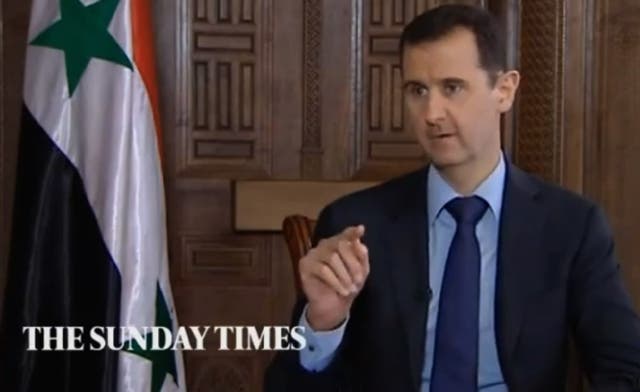 Was Assad given The Sunday Times questions in advance?
A British newspaper may have provided interview questions to Bashar al-Assad prior to conducting a recent interview with him, raising questions over possible special treatment granted to the embattled Syrian president.

It is unusual for media to provide questions prior to an interview, but The Sunday Times may have chosen to bend accepted guidelines for Assad in an article published on Sunday.

"Assad had the questions in advance," said an Al Arabiya source with insider knowledge of Assad's media operations.

"This isn't a case of main topics or themes of the interview being shared to help the President prepare, this is a case of him having the whole list of questions and his PR advisors having enough time to prepare his answers for him," Al Arabiya's source added.
The Sunday Times article marked Assad's first major interview with international media in over a year.

The revelation that he was fed the questions prior to it raises questions over how much time Assad was given to prepare his responses, as he plots his ongoing public-relations offensive in the West.

The interview gave Assad opportunity to court Western public opinion, by claiming that Al-Qaeda is the only viable alternative to his regime.

The Sunday Times declined to comment on whether the interview questions were supplied in advance.

"The interview took place at our request... It took several months to set up, and the questions asked were all from The Sunday Times," a spokeswoman told Al Arabiya.

In the interview, Assad accused Britain of seeking to "militarize" the bloody civil war in Syria by arming rebel fighters.

His words drew a strong response from the British government, with Foreign Secretary William Hague calling the Syrian leader ["delusional."][http://english.alarabiya.net/articles/2013/03/03/269303.html]

"This is a man presiding over this slaughter," Hague told BBC Television.

"We, Britain, are the people sending food and shelter and blankets to help people driven from their homes and families in his name.

Assad's interview with The Sunday Times "will go down as one of the most delusional interviews that any national leader has given in modern times," Hague added.
Al Arabiya News Channel's English portal released in January an interactive [gallery][http://english.alarabiya.net/index/static/lionsden_en] which allows readers keep track of defections, deaths and arrests within the inner-circle of Syrian President Bashar Al-Assad.

The ["Lion's Den"][http://english.alarabiya.net/index/static/lionsden_en] is illustrated through a deck of interactive playing cards, with each card indicating the name, title, picture and current status of Assad's inner-circle and government officials.